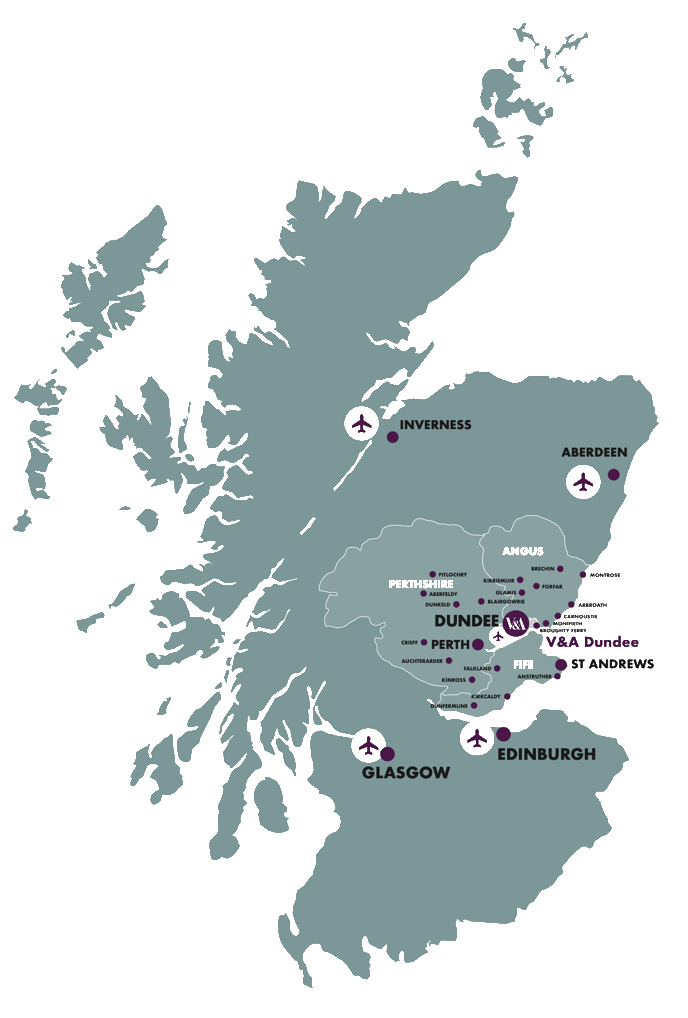 Scotland's Tay Country… designed for the senses.
Scotland's Tay Country is situated 1 hour north of Edinburgh, on Scotland's east coast and encompasses Perthshire, Fife and Angus and the city of Dundee.  The region offers tantalising promise of long sandy beaches, multiple world-class golfing greens, a buzzing city centre and plenty of countryside retreats. It sits at the very heart of Scotland.
As the River Tay weaves its way from a tiny spring on Ben Lui to the free-flowing Firth of Tay on Scotland's east coast, it cuts through some of Scotland's most stunning scenery with lush forests on rolling hills, quiet glens and rushing rivers and white sandy beaches along the eastern coast.
Tay Country is designed to inspire. Designed to help you find your best break, your get-away-from-it holiday. Wonder at the astonishing design at the V & A Dundee – inside and out. Try your golf on the famous links at St Andrews, Carnoustie or Gleneagles . Marvel at the towering forest landscapes of Perthshire. Immerse yourself in the past at palaces from Glamis, childhood home of Queen Elizabeth the Queen Mother, to Scone – original home of the Stone of Scone, used for the coronation of Scottish kings.
Expect top quality food and drink during your stay – dine on 28-day hung steaks at Balgove Larder in St Andrews, or grab an authentic Scotch pie at Wee Cook after a tough round at Carnoustie.  At the Scottish Deli in Dunkeld you'll find all sorts of local treats and a wealth of cheeses, perfect for easy, delicious meals if you're self-catering.
Let every corner of this region evoke a spirit of Scotland deep within you and encourage you to Stay – in Scotland's Tay Country!
How to get to Scotland's Tay Country
Tay Country couldn't be easier to get to – located at the heart of the country. It is just a short hour by road north of Edinburgh, 90 minutes from Glasgow and just 80 minutes south of Aberdeen.
Dundee is the region's main city and the airport has a twice daily service to London and scheduled services from Belfast and Shetland, so plenty of choice for inbound travel or the next stop on your itinerary.
Dundee Airport is surely one of the only UK airports within walking distance of its city-centre – less than 3km! Or can hire an e-bike to get you to the city centre.
Stunning views await you if you hop on board with Scotrail and take the train throughout the region.  And if you are coming from south of the Scottish border, experience your journey in comfort overnight on The Caledonian Sleeper.
If you prefer the convenience of driving, Tay Country has an excellent well-connected road network with plenty of opportunity to follow the river to your ultimate destination. Electric car drivers will find frequent EV charging points throughout the region.
Are you on the look out for Adventure ?
Would you like to get up close with a Highland Cow or walk an alpaca at Newton Farm or do you ache to swing your clubs at one of our world-class greens? Does Dundee's Discovery Point capture your imagination? Or do you hanker for history at Falkland Palace?